The CNC Simulator
Your key to perfect simulation.
Don't just knock on wood.
Rely on our CNC Simulator!
Excite your customers with a fully integrated,
turnkey 3-D CNC simulator with unique woodworking capabilities!
YOUR BENEFITS AT A GLANCE:
Photorealistic 3-D simulation of drilling, sawing, and milling operations in up to 5 axes as well as edge gluing and dowelling
Precision mode enables maximum detailing of the visualization when machining complex and fine woodwork, in particular engraving
Ideal for presentations, documentation and training
Workflows are realistically simulated by emulating the specific control logic
Compatible with a machine PC or a standard PC for work preparation
Eliminates the need for cost-intensive tests and helps avoid programming errors
Increases safety and process efficiency
Easy-to-use, intuitive user interface
Comprehensive functionality, including collision detection, time calculation, and edge application
Material application and removal
Collision check performed simultaneously with simulation
Collision detection for all machine components:
Machine body, housing, tools, workpiece, and clamping devices
Outstanding performance, even with machine computers
Excellent price-performance ratio
How the simulator works:
With our CNC Simulator, you can open generated CNC programs directly on the machine computer as well as on a standard PC for work preparation. Existing tool data and the machine configuration are automatically fed into the program. The program simulates and visualizes the processing of the workpieces on your specific machine.
Because the CNC Simulator can be used on the machine computer, changes made on the machine even just before actual processing can be immediately simulated and checked for errors. Any collisions between machine components and the workpiece will be detected and visualized. This allows you to identify programming errors instantly and correct them during the work preparation stage, thus eliminating the need for expensive test runs and avoiding costly errors on the real machine.
The projected processing time is displayed as soon as the program has been loaded. This information can be used for calculation purposes and, like the verification of program execution, saves machine time. The simulator also supports time calculation for multiple programs during batch processing.
Our CNC Simulator is modular. The two modules, VIEWER and MATERIAL APPLICATION AND REMOVAL LIBRARY, are also available separately.
Other functions at a glance:
Display of processing time for multiple programs (batch processing)
Automatic input of machine configuration data
Vacuum suction cups and other clamping devices can be represented
Permits rotation and repositioning of the workpiece for multistage processing
Includes easy-to-use tool data editor for defining and arranging tools
Detailed real-time graphics, even on machine computers
CNC machine real-time systems are not affected
Selected functions in detail
Visualization of processing with material removal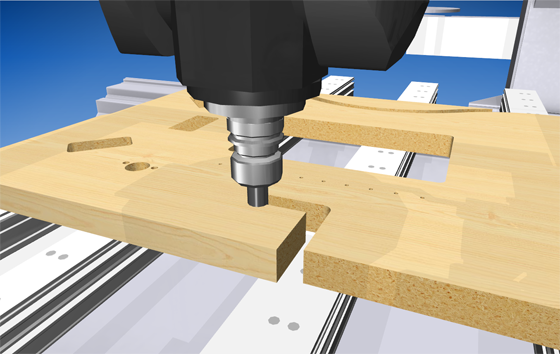 The CNC Simulator visually displays the processing of a workpiece on your CNC machine. The individual processing steps are shown as they will subsequently occur in production. The effect of the tool on the workpiece is displayed based upon the tool profile. Scrap pieces are automatically and immediately faded out in the display. The CNC Simulator normally imports the two profiles from contour definition files. Alternatively, tool profiles can be created quickly and easily in the CNC Simulator's tool editor.
Precision mode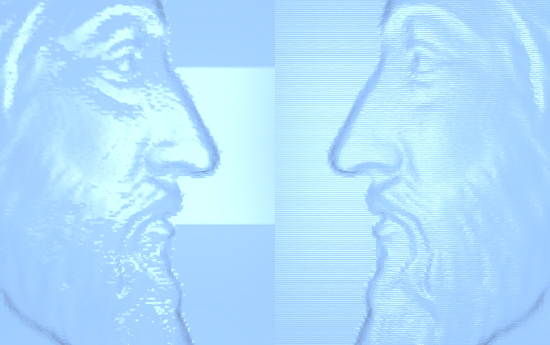 Are you planning complex machining and want to know how the result will exactly look like? Take advantage of the precision mode. Get introduced to display the processing and the finished workpiece in the highest possible precision and check particular processing edges and surface structures up to the ribbing by the tool trace. Prior to the realization of your project, any rework can be estimated and optimized.
Collision check and identification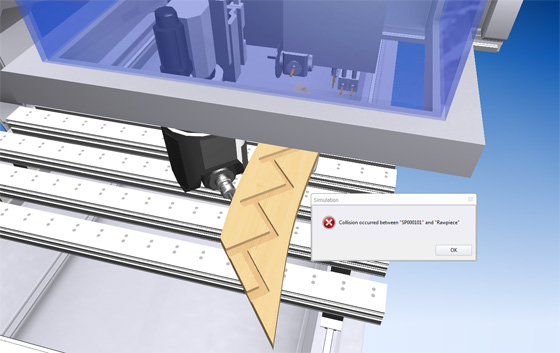 One important reason for using simulation programs is the ability to detect collisions before the actual processing operation. The CNC Simulator detects collisions automatically, displays them, and notifies the user about the error. The system not only detects collisions between a tool and clamping devices, but also collisions between the unit body and the suction cups or the workpiece, including collisions between passive tools. This ensures maximum safety even at the programming stage, and helps to avoid costly errors.
Display of assembly operations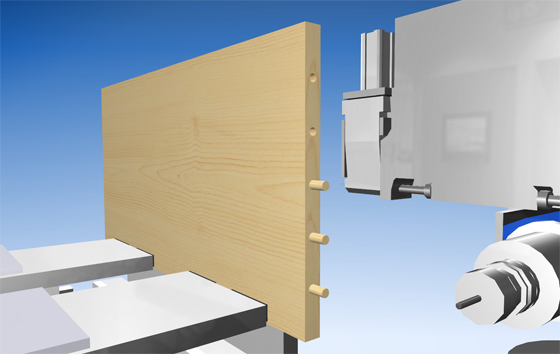 Both assembly operations and applied material, such as glued-on workpiece edges, are included and displayed.
Traced tools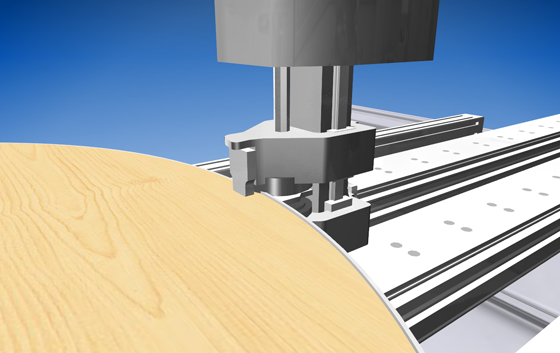 Traced tools can also be simulated.
Order your test version today!
Try out our CNC Simulator and get familiar with its functions. Order your demo version, including interesting examples!
Please contact us by phone or email for more information or to schedule a demonstration.