Visualization module, available separately
The Viewer is a 3-D simulator that visualizes the processing steps of a CNC machine based upon available motion data - while delivering the full functionality of our CNC Simulator. With it, we can offer you a fully-integrated simulation solution that can be quickly adapted to new machine layouts.
Your benefits:
Holistic simulation solution for existing motion data
Supports motion data in the G-code format (ISO) or your specific output format
Optimized for use in wood and plastic processing
Rapid adjustment to new machine layouts
Photorealistic visualization of machine layout and workpieces
Precision mode for maximum accuracy displaying
Highly-efficient graphics to provide a fluid display of ongoing processes, even when removing large quantities of material
No delay in collision detection and removal of scrap parts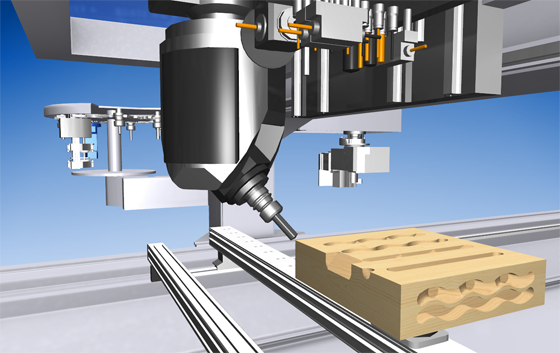 Realistic depiction of all machine tools
For more information or to schedule a demonstration, please contact us by phone or email!